Doge, Elon, and Twitter. A Simple Trend Analysis.
One of the most fascinating, impressive, and surprising moves during the 2021 crypto bull (so far?) run belongs to Dogecoin.
Our Shiba friend was first released on December 6th, 2013. Doge, as a token and project, has a rabbit hole for a history with countless articles online going into incredible detail. This article, however, attempts to analyze how Elon Musk Tweets impacted Doge over the past few years.
Before we look at tweets we ought to put Dogecoin into some historical perspective. According to data, Coinmarketcap.com began tracking Doge on or around December 15th, 2013. A lot as changed since then huh?
At that time, Doge boasted a market cap of nearly $2,000,000, a price of $0.0002979 per coin, and ranked 27th among the tracked tokens.
Quite impressive when you look at the historical data and realize how few of the top projects at the time survived until now.
Bitcoin, as a reference, on the same day, had a market cap of $10.6 billion and was trading around $876 per coin. I wonder what it will be in another 8 years…
Now lets look at the long term chart where each candle represents 1 month of Dogecoin trading history from Bittrex exchange using the DOGE/USD pair.
Dogecoin's growth since 2014 is so monumental its challenging to fit on a chart. How can we put the years before 2017 into perspective? By adjusting the y-axis scale we can add some body to the candles in the previous years….
Andddd Dogecoin's rise is now off the charts literally. If you look at the years 2015-2017 you can see they were especially flat for Doge compared to this year. But, keep in mind the candles are in USD price and not percentages.
Still, hats off to anyone who've held through all those years.
Another impressive chart for Doge uses BTC as a pair instead of USD. Take a look below:
Compared to Bitcoin, Doge has strongly outperformed in 2021. Timing the market is difficult but if you bought Doge in December 2020 and sold a few months later you outperformed the vast majority of traders in nearly every asset I can think of.
---
Lets look at a chart comparing Dogecoin and Bitcoin.
The chart below shows the percentage growth of BTC (orange line) and Doge (candles) from 2014. Bitcoin only gained a meager 8,297% while Dogecoin increased by 20,416%, meaning Doge more than doubled BTC's gains during the same time period.
However, cherry picking time frames can be misleading as the percent gain noted on the chart does not include the incredible growth of BTC prior to December 2014.
But still… Much wow. Very growth.
Enter Muskman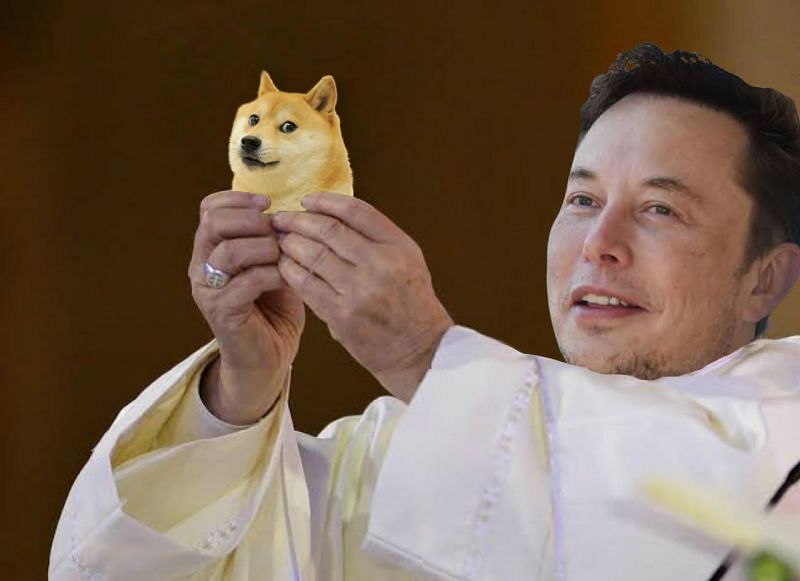 So when exactly did Elon join the Doge party? Anyone who follows him on Twitter knows he's tweeted about Doge countless times and he even tweeted about it while I wrote this article (I had to keep track of his tweets with a spreadsheet).
If we look at his Twitter account we can see his first Doge Tweets began in 2019. Prior to that Elon tweeted about Bitcoin in 2018. I've most likely missed a least a handful of Elon tweets related to Dogecoin so please reach out if you see one missing.
Elon tweeted about Doge four times on April 2nd, 2019 with two being replies to Doge topics. At that time, Doge was worth less than 1 penny. Did you buy?
Dogecoin gained an impressive 21.78% the day of Elon's tweets and 61.9% over a two day period. Though, if we look at the candles before his Tweets we can see Doge had already began pumping. I wonder if he was buying around then?
Doge's rally fueled by Musk's endorsement seemed to stick. Dogecoin did not fall below the price at the time of Elon's first Doge tweet until 6 months later on September 23rd, 2019. Not bad Mr. Musk!
---
After his 2019 tweets featuring Doge it appears Elon took a bit of a Doge-tweet break.
The next Dogecoin related tweet I could find occurred on April 25th, 2020, not long after the Covid related crash across global markets.
At that time Doge was trading around $0.002 and has stayed above since the publishing of this article. While the market did not immediately react to Musk's tweet, Doge did gain an impressive 27.5% over the following 5 days.
The next Dogecoin tweet from Elon came on July 18th, 2020. Spot trading volume spiked during the hour of his tweet which leads me to believe the market was definitely following along at this point. Doge gained a solid 32.45% over a 27 hour period following Musk's tweet.
Elon's tweeted about Doge again on November 17th, 2020. Based on the chart, the market did not immediately react his tweet reply.
Next up, Elon tweeted about Dogecoin December 20th, 2020, roughly six weeks after his previous tweet.
Based on my crude analysis, it appears the market reacted positively to Elon's tweet, helping push Doge up 20% over a 3 hour period with some intense volatility. There is also a noticeable volume spike in buying prior to his tweet.
However, the rally was met with intense selling in the following hours. Were whales selling into FOMO incited by Elon's tweets?
---
In total, Elon tweeted about Doge four times in 2020 which leads us to the craziness of 2021.
By my count, Elon tweeted specifically about Dogecoin at least 34 times in 2021 (so far)! His Doge tweeting trend began in February.
However, a truly remarkable increase in buying happened on January 1st, 2021.
Elon tweeted on February 10th, noting he had bought his son some Dogecoin. During the hour of Elon's tweet, Dogecoin increased 18.22%!
---
Another Elon tweet on Doge occurred February 14th, helping the coin increase by nearly 14% in an hour. Unfortunately, the impressive gains were quickly sold off in a trend similar to his previous tweet.
Elon tweeted about Doge twice on February 20th, noting he was mining Dogecoin at home as a family project. Market reaction was positive and helped push the price up by 9.28% but sadly retraced shortly after. I consider this to be an really underappreciated Elon tweet.
---
In the month of March, Elon tweeted about Doge at least eight times. Elon began the month by tweeting a meme suggesting the power of memes would save Doge's price. His tweet helped spur a 6.32% increase over a 30 minute period but it quickly sold off.
His next Doge tweet appears negative at first glance but was clearly meant as a sarcastic jab at Dogecoin doubters. Market reaction was mixed until he tweeted again around 13 hours later possibly helping to spur a Doge rally of a modest 5.2% over the 15 hours following his 2nd tweet.
---
Elon's next tweet regarding Doge occurred on March 6th. The dog coin was increasing in price prior to his tweet so its difficult to attribute gains directly to his social media commentary that day.
However, a much larger spike in buying occurred on the 8th of March helping push Doge passed $0.06 momentarily.
At this point, there was a slightly noticeable trend; buying Doge spot after Elon tweeted and below the price at the time of his tweet was likely a better choice than buying as soon as he tweeted.
---
Elon's next two Doge tweets occurred on March 13th. Those who bought the same hour as his tweet gained a nice 9% (if they timed it perfectly). However, FOMO buyers would be quickly disappointed as Doge fell below the price at the time of his tweet a few days later.
---
Elon tweet replied to the digital artist Beeple on March 15th. Somewhat surprisingly, the market did not react positively to the interaction. The price of Doge dipped the hour following Elon's tweet and did not steadily increase again until a low of $0.049 on the 25th of March.
---
On March 18th, Elon replied to a prominent podcaster who had mentioned Bitcoin and in response Musk suggested Doge. There was no price rally for Doge on the hour of Elon's tweet and it became clear that a Musk tweet reply which only mentioned Dogecoin was not necessarily enough to move the market in a major way.
April 1st marked a historic day for Dogecoin.
Elon tweeted his company SpaceX intends to put Dogecoin on the moon which would fulfil the rally cry of "Dogecoin to the moon!" In my opinion, this tweet helped Doge surge an impressive 29.93% over a two hour period alongside a serious spike in volume.
However, over the following days and another Elon tweet on the 15th, Doge increased monumentally.
From April 1st to April 16th, Dogecoin gained an unbelievable 737.88%! Despite this, our doggy friend had one more to come.
---
By the end of April, the media attention surrounding Elon and Doge was clearly close to a tipping point. Elon announced he would host SNL via a tweet on April 28th, helping spur another drastic rise in Doge's price. Over the seven days following his announcement, Dogecoin gained a staggering 168.39%!
---
Nine days later, on May 7th, Elon tweeted a video interview of himself talking to paparazzi about Doge and crypto. Although, his tweet warned crypto investors to do so with caution, a markedly different tone compared to his previous tweets. Regardless, Doge rallied 30.67% over the 24.5 hours following the post.
Elon's SNL appearance also occurred during this period of time and marked the all time high (so far) for the price of Dogecoin peaking at $0.73 (depending on the exchange). Dogecoin was mentioned a few times during the episode but it was not exactly an enthusiastic endorsement.
Sadly, the price of Dogecoin and most other cryptos have been in an overall decline ever since.
---
Two more Dogecoin related tweets from Elon occurred on the 9th and 11th of May. His tweet on the 9th, adding detail to the SpaceX news, helped spur a 7.26% gain in the price of Doge but was shortly lived falling below the price at the time of his tweet only four hours later.
The market reaction to Elon's tweet on the 11th was stronger. Doge gained 17.79% over one hour. However, the Doge rally did not sustain as the coin fell below the low on the 11th the next day.
---
On May 13th, Elon tweeted about Doge noting he was working with developers to improve the coin's overall efficiency. While his comments gathered both praise and criticism, it showed he was (and maybe still is) somewhat serious about contributing to the long-term success of Dogecoin.
Doge gained 32.72% over the eight hours following Elon's developer tweet.
---
Elon tweeted about potential Doge development twice on May 16th. Dogecoin rose 5.16% during the hour of Elon's two tweets. More modest gains were not surprising as price movements across the whole crypto market were choppy and trending down.
Overall, Doge was still in decline from May's highs and continued falling after Musk's tweets.
---
In May, Elon received more and more criticism on Twitter and in typical Musk fashion he responded to his critics with sarcasm and memes. His tweet reply on May 16th led to a modest and short-lived increase of 6.69% alongside volatility.
---
Three more Dogecoin tweets from Elon came on May 20th. The first tweet of the day included a picture of what appears to be a shrine including a neon sign of his nickname "CyberViking" and a dollar bill in reference to the "doge to a dollar" meme.
As a whole, the entire crypto market was still in decline. Elon's tweets helped pump Doge by 14.96% and 5.07% during the 15 minute candles coinciding with his tweets.
The Dogecoin community was surely glad to hear that Elon had no plans to sell his Dogecoin.
---
More Dogecoin tweets from Elon came on May 24th and May 25th. His tweets on the 24th help spur a 10.47% rally for Doge. His tweet on the 25th did not spur a rally and it seems he simply wanted to clarify he was/is just a Dogecoin fan and has little to no control. Some rare modesty or attempting to save face?
---
Elon tweeted about Dogecoin twice on July 1st. Over a 40 minute period, Doge increased by 9%. Upon seeing the baby doge tweet, savvy followers of Elon quickly released a coin called BabyDoge which jumped over 200% in a few hours.
Another Elon-Doge tweet came the following day in response to some space travel competition discussion. Volume spiked but sellers quickly overwhelmed buyers as you can see in the chart below which shows candles in 5 minute intervals.
A couple more Elon Dogecoin tweets occurred on July 9th. The first was met with a nice increase of 13.79% over nearly two hours but fell after almost hitting $0.23. His later tweet was simply a reply and did not include the word doge or dogecoin and only coincided with a 3.99% increase over an hour and fell sharply afterwards.
Elon tweeted about Dogecoin on July 12th in response to a conversation about Tesla cars. Market reaction was mediocre netting Doge around a 2% increase with a sharp selloff after 15 minutes.
---
Elon's Doge tweet on July 17th was met with major buying not seen in weeks. Dogecoin gained 17.55% over a period of nearly 3 hours. The last time an Elon tweet coincided with a 15%+ jump occurred in May.
As of July 18th, Dogecoin is holding above the price at the time of Elon's tweet on the 17th.
---
In summary, Dogecoin was trading around $0.00246 when Elon first tweeted about it. If you had bought at that moment and then sold at the year's high of $0.74, you would be up 30151.2%. Meaning a $100 invested would net you nearly $30,000 if you sold at the 2021 high (so far?).
However, timing the market is notoriously difficult. If you bought Doge in 2019 or before and held until now, give yourself a pat on the back for your conviction and holding despite all the naysayers.
So, what exactly can we learn or take away from all of this crude analysis? The content of a Musk tweet seems to matter. Big Dogecoin rallies at the time of a Musk tweet tend to sell off. An Elon doge-related tweet can come at anytime day or night.
Elon goes through bouts of tweeting and then periods without any tweets about Dogecoin. However, if I had to guess, Elon still loves Dogecoin and the memes. He mentioned owning Doge during the B-Word conference. I theorize his kids love dogecoin which keeps him interested. Additionally, as far as I can tell, there are still long-term plans for SpaceX to send some Dogecoin to the moon. Will Dogecoin hit $1 in the future? Well, I can't say for sure but it sure has surprised even some of the most experienced crypto insiders already.
I think one of the greater risks for Doge is the case where Elon becomes enamored with another crypto. Memes often get replaced with newer trends. Regardless, Dogecoin will continue far into the future even without Elon as its spokesperson. No one can really predict future prices. Doge will likely continue to decline so long as the overall market does the same.
Overall, standard investing and trading best practices always apply. Never invest more than you are willing to lose and don't FOMO! There are always buying opportunities! Buying something because of a celebrity endorsement is not usually a great idea but Doge and Elon are a clear outlier.
Interested in day trading Dogecoin? Be sure to check out Sam's Twitch Channel especially around the time of an Elon-Doge tweet!
The chart below is a summary of Elon's tweets about doge and some corresponding data. Dogecoin prices were taken from a few exchanges (mostly Bittrex) and are not exact especially for previous years.
| | | | | | | | | | | |
| --- | --- | --- | --- | --- | --- | --- | --- | --- | --- | --- |
| Date | Time CST | Tweet Link | Price at Tweet | Price 1 hour after | Percent Difference | Type | Comments | Retweets | Likes | Tweet Summary or Quote |
| 4/2/2019 | 4:24 AM | URL | 0.00253 | 0.00251 | -0.79% | Reply | 680 | 3,368 | 12,100 | Dogecoin is his favorite |
| 4/2/2019 | 2:40 PM | URL | 0.00261 | 0.00284 | 8.81% | Reply | 216 | 534 | 15,300 | "Uh oh" response to being called Doge CEO |
| 4/2/2019 | 3:16 PM | URL | 0.00265 | 0.00289 | 9.06% | Tweet | 1,700 | 17,300 | 137,400 | "Dogecoin rulz" & meme |
| 4/2/2019 | 3:38 PM | URL | 0.00276 | 0.00292 | 5.80% | Tweet | 1,000 | 2,100 | 19,800 | "Dogecoin value may vary" & shared article |
| 4/25/2020 | 8:29 AM | URL | 0.0021 | 0.0021 | 0.00% | Reply | 128 | 294 | 2,300 | "Dogecoin Mode" |
| 7/17/2020 | 7:53 PM | URL | 0.00305 | 0.00359 | 17.70% | Reply | 440 | 1,000 | 15,900 | "Excuse me, I only sell Doge" |
| 11/17/2020 | 12:45 PM | URL | 0.003 | 0.003 | 0.00% | Reply | 84 | 116 | 1,000 | "Dojo/Doge" |
| 12/20/2020 | 3:30 AM | URL | 0.00396 | 0.00461 | 16.41% | Tweet | 10,900 | 25,800 | 220,300 | "One word: Doge" |
| 2/4/2021 | 1:35 AM | URL | 0.04073 | 0.05297 | 30.05% | Reply | 9,100 | 52,900 | 258,800 | "Doge" |
| 2/4/2021 | 2:15 AM | URL | 0.05593 | 0.04794 | -14.29% | Tweet | 19,100 | 116,200 | 549,800 | "Dogecoin is the people's crypto" |
| 2/4/2021 | 2:27 AM | URL | 0.05747 | 0.0515 | -10.39% | Tweet | 22,100 | 123,400 | 766,800 | "No highs, no lows, only Doge" |
| 2/7/2021 | 4:25 PM | URL | 0.08115 | 0.08067 | -0.59% | Tweet | 26,700 | 124,900 | 780,100 | "Who let the Doge out" |
| 2/7/2021 | 11:27 PM | URL | 0.07303 | 0.07198 | -1.44% | Reply | 1,100 | 4,000 | 15,300 | Comments on Doge inflation and txs speed |
| 2/10/2021 | 9:08 AM | URL | 0.06907 | 0.07753 | 12.25% | Tweet | 28,400 | 67,500 | 543,900 | Elon bought Dogecoin for his son |
| 2/11/2021 | 5:27 PM | URL | 0.06987 | 0.06899 | -1.26% | Reply | 2,100 | 9,600 | 28,700 | "Doge is underestimated" |
| 2/14/2021 | 5:25 PM | URL | 0.05818 | 0.06125 | 5.28% | Tweet | 28,300 | 40,100 | 327,600 | Elon supports anyone who sells Dogecoin |
| 2/14/2021 | 5:33 PM | URL | 0.06157 | 0.06121 | -0.58% | Reply | 459 | 780 | 6,000 | Comment on BTC vs. Doge wallet concentration |
| 2/20/2021 | 2:42 AM | URL | 0.05975 | 0.05914 | -1.02% | Reply | 2,900 | 7,500 | 55,400 | Elon says hes mining doge at home |
| 2/20/2021 | 4:06 AM | URL | 0.05927 | 0.05991 | 1.08% | Reply | 631 | 844 | 8,900 | Elon gives doge mining detail and says it's a family project |
| 2/21/2021 | 3:27 PM | URL | 0.05462 | 0.05758 | 5.42% | Tweet | 19,400 | 35,900 | 324,000 | "Dojo 4 Doge" |
| 3/1/2021 | 1:57 PM | URL | 0.04993 | 0.05 | 0.14% | Tweet | 9,300 | 28,500 | 282,600 | Doge meme picture |
| 3/2/2021 | 2:36 AM | URL | 0.05114 | 0.05109 | -0.10% | Reply | 808 | 2,100 | 14,200 | "2022: Dogecoin is dumb" |
| 3/2/2021 | 3:07 PM | URL | 0.05 | 0.05 | 0.00% | Reply | 731 | 1,800 | 15,900 | Elon said the leader of Starbase city will be The Doge |
| 3/5/2021 | 10:40 PM | URL | 0.04969 | 0.05155 | 3.74% | Tweet | 20,600 | 43,000 | 406,300 | "Doge spelled backwards is Egod" |
| 3/13/2021 | 5:40 PM | URL | 0.05917 | 0.06053 | 2.30% | Tweet | 7,200 | 20,300 | 174,500 | "Doge day afternoon" |
| 3/13/2021 | 5:46 PM | URL | 0.06023 | 0.06053 | 0.50% | Reply | 2,400 | 8,200 | 76,200 | Comments on the origin of Doge Day Afternoon |
| 3/13/2021 | 9:54 PM | URL | 0.06239 | 0.06188 | -0.82% | Tweet | 12,200 | 24,100 | 248,600 | "I'm getting a Shiba Inu" |
| 3/15/2021 | 6:11 PM | URL | 0.05752 | 0.0572 | -0.56% | Reply | 2,400 | 5,500 | 79,500 | "420M Doge" |
| 3/18/2021 | 4:17 PM | URL | 0.05785 | 0.05771 | -0.24% | Reply | 1,600 | 3,800 | 49,000 | "Sometimes it's about Doge" |
| 4/1/2021 | 5:25 AM | URL | 0.05433 | 0.06764 | 24.50% | Tweet | 25,600 | 60,800 | 542,300 | "SpaceX is going to put a literal Dogecoin on the literal moon" |
| 4/14/2021 | 11:28 PM | URL | 0.1301 | 0.1396 | 7.30% | Reply | 859 | 2,800 | 21,400 | "Doge Barking at the Moon" & meme picture |
| 4/14/2021 | 11:33 PM | URL | 0.1319 | 0.1388 | 5.23% | Tweet | 22,500 | 54,900 | 333,900 | Elon tweets same as previous Doge reply |
| 4/28/2021 | 1:20 AM | URL | 0.2587 | 0.289 | 11.71% | Tweet | 37,800 | 89,100 | 460,600 | "The Dogefather SNL May 8" |
| 5/7/2021 | 1:14 AM | URL | 0.5833 | 0.6293 | 7.89% | Reply | 7,400 | 13,200 | 51,400 | "I'm looking for a shiba pup!" |
| 5/9/2021 | 5:41 PM | URL | 0.557 | 0.572 | 2.69% | Tweet | 36,100 | 132,700 | 541,300 | Elon announced SpaceX Doge-1 satellite |
| 5/11/2021 | 3:13 AM | URL | 0.475 | 0.5091 | 7.18% | Tweet | 99,000 | 114,400 | 400,500 | A poll for whether Tesla should accept Doge |
| 5/13/2021 | 5:45 PM | URL | 0.4296 | 0.4774 | 11.13% | Tweet | 66,600 | 107,300 | 549,900 | Elon says hes working with devs to improve Doge |
| 5/15/2021 | 8:20 PM | URL | 0.5199 | 0.5359 | 3.08% | Reply | 10,600 | 17,900 | 56,200 | More details on improving Doge |
| 5/15/2021 | 9:03 PM | URL | 0.5331 | 0.5359 | 0.53% | Reply | 5,000 | 5,100 | 23,900 | More details on improving Doge |
| 5/16/2021 | 12:21 PM | URL | 0.5038 | 0.5227 | 3.75% | Reply | 13,600 | 21,300 | 85,000 | "Obnoxious threads like this make me want to go all in on Doge" |
| 5/20/2021 | 5:41 AM | URL | 0.3658 | 0.3994 | 9.19% | Tweet | 73,600 | 63,000 | 311,700 | "How much is that Doge in the window?" & image |
| 5/20/2021 | 12:53 PM | URL | 0.3992 | 0.403 | 0.95% | Reply | 1,000 | 2,900 | 24,100 | "A longtime Tesla supporter gave me the Doge dollar sticker at Giga Berlin" |
| 5/20/2021 | 12:56 PM | URL | 0.4051 | 0.4012 | -0.96% | Reply | 5,200 | 14,300 | 52,600 | "Yeah, I haven't & won't sell any Doge" |
| 5/24/2021 | 2:49 PM | URL | 0.3442 | 0.3586 | 4.18% | Tweet | 22,500 | 36,500 | 194,300 | Elon ask those who want to help Doge can submit ideas to Github |
| 5/24/2021 | 3:29 PM | URL | 0.3761 | 0.3568 | -5.13% | Tweet | 8,400 | 13,400 | 132,300 | Elon says the idea of Doge fees based on the moon is awesome |
| 5/25/2021 | 12:37 AM | URL | 0.344 | 0.3586 | 4.24% | Reply | 6,100 | 9,600 | 50,400 | "Doge has dogs & memes, whereas the others do not" |
| 6/5/2021 | 3:21 AM | URL | 0.3859 | 0.3892 | 0.86% | Reply | 2,000 | 4,000 | 24,700 | "I pretty much agree with Vitalik" |
| 6/25/2021 | 6:03 AM | URL | 0.2544 | 0.2494 | -1.97% | Tweet | 39,500 | 45,500 | 304,300 | "My Shiba Inu will be named Floki" |
| 7/1/2021 | 3:43 AM | URL | 0.2404 | 0.2522 | 4.91% | Tweet | 11,500 | 18,300 | 131,400 | "Release the Doge!" & meme |
| 7/1/2021 | 4:24 AM | URL | 0.2437 | 0.2488 | 2.09% | Tweet | 42,100 | 55,700 | 278,300 | Elon tweets "Baby Doge, doo, doo, doo, doo, doo," |
| 7/1/2021 | 10:09 PM | URL | 0.2416 | 0.2414 | -0.08% | Reply | 1,400 | 3,600 | 16,700 | "But can I pay in Doge?" |
| 7/9/2021 | 2:15 AM | URL | 0.2035 | 0.2127 | 4.52% | Reply | 7,000 | 8,200 | 27,500 | Elon discusses crypto & doge transaction layers |
| 7/12/2021 | 9:33 PM | URL | 0.2051 | 0.2064 | 0.63% | Reply | 2,000 | 4,400 | 22,400 | "Maybe if it sees a Shiba Inu, the car renders a Dogecoin" |
| 7/17/2021 | 11:53 AM | URL | 0.1747 | 0.18 | 3.03% | Reply | 1,200 | 3,100 | 14,800 | "Lil X is hodling his Doge like a champ. Literally never said the word "sell" even once!" |